The Roots Of The Blues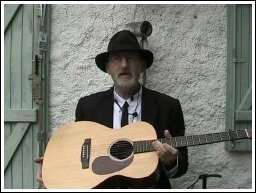 Learning blues guitar
in today's world is a curious thing to go for. Even the least well off in Western countries are so much richer than the early blues legends who first invented the wonderful music that was the corner stone of all the various musical styles of our times. Even making use of the best blues guitar tabs, it's difficult for students to identify with the authentic spirit.
The first beat quite obviously was handed down from the people's roots in Africa, but modern African music is much more rich in rhythmic differences and more complex, so how did this happen?
It's known that early 'guitars' were basic instruments with a single string, cobbled together from a large wooden cigar box, or similar box. It wasn't practically feasible to produce musical sounds of a very intricate form, and possibly made a short lived 'damped sound', with small difference in tune quality.
Also, for a lengthy time in southern America, traditional drums were outlawed, as were other cultural things that enhanced the inner strength of the black people and instilled principles of self determination or freedom from slavery. Maybe the hypnotic feel of the primordial
blues guitar
chords were intended to be drum like, possibly explaining why the single string thumb strike style of plucking was amongst the first to be used.
In that technique of playing guitar, the rhythmic pattern was basically simpler and the thumb picking stroke was made to sound like a drum's beat. In those tough decades, a dedicated guitarist would pluck a monotonous bass pattern which frequently was at the same timing as a beating heart. This made sure that the beat has an emotional contact and it wasn't that important for the music to be analyzed, or be musically over structured.
Yet another possibility is in relation to the jobs that negro laborers were forced to apply themselves to. Most variations of tough work implies rhythmic repeated actions, such as hammering, cutting down cereal grass, digging turf with a hoe, hitting with a hammer or levering over steel rails for train tracks.
You can find examples of the work in restored film archives of the time, where a line of workers with strong iron bars holler a repeating work song and synchronize their work motion such that the massive steel rail is eased over a short distance at the finish of a line of verse or perhaps the chorus.
More often than not the work song was split up and an answer sung by designated parts of the work crew. This successful application of question and answer was utilized in many blues songs when sung by a couple of singers, and was a mainstay in church blues music.
Even though it's a fact that modern day music has been developed with complicated musical patterns and interesting rhythmic variations, the fundamental rhythms are detected - the elemental
guitar boogie
is unmistakable in a huge number of rock classics in the past 50 years and the style extended the traditional blues guitar chords. The more varied syncopation of
ragtime guitar
became the foundation of the first attempts at jazz.
What To Look For In The Best Acoustic Lessons
When first starting to search for those ideal lessons for guitar, many people used to go to the great 'G', and 'Google it'. More and more searches for everything imaginable are made on Youtube, as a matter of fact it's the second most favorite search engine after Google itself.

Like Google, the number of items returned for a search such as 'blues guitar lessons' is formidable - how to determine the instruction that's best for you and how to play blues guitar in the authentic style? Youtube guitar lessons feature all manner of styles and teaching levels, both paid and for free.

Blues guitar tabs are the basis of the best guitar lessons. It doesn't have to be incredibly complex at all, with just elementary notation indicating finger movements and blues guitar chords. Some blues tabs go into too much detail, trying to capture the feel and ambiance of authentic blues playing, which just isn't possible!

This points us to the second characteristic of good blues guitar lessons - the teacher must be able to play the music very well (and the tablature should precisely represent what he is playing.)

Guitar tablature itself isn't enough to translate that delicate pause, or the thumb strike that is a little off-beat when needed to complement the words. Sure, the tab can show that a single thumb stroke should be damped with the palm of the hand, but can't indicate that this damping movement itself isn't continuous, but varies in sound as the force of the palm on the strings is continually being changed according to the flow of the song.

Take your time when looking for any instruction, of any kind. The Chinese have a saying 'a year or two spent doing nothing but locating the right instructor is very well spent'. This is a good observation. You don't need to take a year for your search, but choose carefully and ignore the hype. Don't expect to improve in two weeks, take it easy, don't beat yourself up and above all, enjoy the music and the travel.

The Vital Features Of Great Video Guitar Lessons

A search on the internet for guitar instruction in video format can turn out to be a daunting activity, particularly for the fledgling student with little experience. What are the best features of the most effective packages on offer? As you might imagine, we can identify common components that might help us choose the right tuition.

Tuition should be Easy To Follow

Although it almost goes without saying, any lesson for whatever subject needs to flow in a logical way and be simple to take in. First steps need to be clearly described, and grow into further lessons. Musical theory is important, but a student guitar player is basically impatient to start learning - he would like to play!

This must be the first step, presenting the basic things that can be put into practice straight away. When all said and done, a thorough understanding of the first concepts will bring huge advantages later on in the instruction.

Musical Notation versus Tablature

Traditionally, guitarists in the classical style learned to read musical notation and followed the written notes
when performing or composing new music. Inevitably, this means a progress that is often perceived as too slow in today's fast moving world. During the 60s, blues guitar master Stephan Grossman and others,
created a method of guitar tablature that represented the frets and strings of the guitar neck.

This abbreviated 'musical' notation was quickly assimilated and is an effective tool for learning blues guitar, for example. A grid of six strings is numbered from the bottom bass string (1) to the top E string (6) and a number written on a string shows which fret finger should be placed above. A straight line at the side of the number denotes that the thumb or finger is employed.

Image Presentation - Guitar Tablature - What Should Be Displayed On The Video Screen

There are many variations for this theme, but we can identify important features of this vital visual aid to guitar tuition. The student should be made aware right at the beginning what the purpose of that instruction may be. If he is to learn a complete song, then that song needs to be played in exactly the same as the detailed tuition demonstrated throughout the complete lesson.

Before the detailed tuition, any difficult techniques can be discussed and valuable tips given. A close up of both hands are invaluable, and would be best shown seperately. Blues guitar chords and tab may be overlaid on the screen, so that students can follow the finger movements at the same time.

More Desirable Attributes Of Blues Guitar Tuition

When being taught a song, it's good to have the words at hand and a short discussion covering singing whilst playing. This might seem obvious, but it's quite tricky for a new student to do both together! The complete tablature and words could be provided as a separate Word or PDF file, which can be printed and referred to at the student's leisure. A Wave audio file could additionally be provided, in this way the instruction could be referred to casually at all times. However, if the video file is in the right format, it could be watched on an iPhone or iPad.

What's New from Jim Bruce
If you'd like to keep abreast of what's happening on my Youtube Channel, it's a good idea to subscribe, and get notified in your emails whenever I post a new video. There are also services that notify you and also send you the video to watch - you don't even have to go to Youtube!
Another great way to keep informed about what I'm doing is to follow my blog here.
Guitar Practice
I know that it's often very difficult to get enough practice time in, particularly if you have a family and job commitments. We often start out as youngsters
playing blues guitar
avidly and then it tends to tail off as we get involved romantically, or take a demanding career path - and later on balancing a relationship, kids and job all at the same time! It's no wonder that playing guitar takes last place.
This exact thing happened to me. I was playing at pro level in my twenties and then got married. Of course, I needed a good job to support a family, which demands time. Basically, I stopped playing at all for about 5 years, which was not a good idea.
I thought that I would just pick it up when I was ready and carry on where I left off - wrong! Years of 'no practice' left a big hole, which I recovered after about a year's hard work. However, for some reason, I never recovered the slickness that I had previously.
Judging from my emails, there are many men between 50 and 60 years of age coming back
learn guitar
after years of inactivity, and finding it tough even if they played really well in their youth. My advice is always the same - make time every day for a little playing, even if it's 10 minutes. It really does work wonders and keeps those muscle memories active.
I'd really welcome any comments you might have, or any questions ... Cheers, Jim